We've been riding the FZ-09 (MT-09 in Europe) intermittently since 2014, throughout its 40,000 km life and have reached a verdict on just about every aspect of what's good and bad about this budget-priced middleweight naked bike.  We've also performed a long list of modifications that help get the most of of the platform and have included a complete guide within.
Our test bike has been a 2014 FZ-09 which was delivered to one of the very first Canadian customers to take delivery of this new model in May of 2014.  We rode it from bone stock, all the way through a very extensive list of modifications, on varying road surfaces ranging from urban commuting to tight switchbacks to the odd track day.  Here's our unbiased review.
The Good
The Motor:  The motor.  The motor.  Indeed, in stock form, the most commendable aspect of the "Fuzz Nine" is its crossplane triple engine.  Putting out around 100HP and 60 lb-ft of torque (stock) to the rear wheel, it's a mill that punches far above its specs and it's only upon consulting with a dyno graph that you'll see why:
The CP3 motor has usable torque pretty much everywhere in the rev range and under any type of street riding conditions, this translates to a sense of urgency and a direct connection to the bike that's hard to understand until you've ridden it.  It has wheelie-inducing power thru 2nd gear and even into 3rd and sits at the core of what makes the FZ-09 one of the most hooligan machines available today.
Weight:  Or should we say, lack thereof.  The bike's claimed wet weight of 414 lbs is class-leading and when combined with its potent motor, makes for a deceivingly fast bike capable of keeping up with much larger displacement motorcycles. Combined with the wide bars and short wheelbase, the lithe FZ feels flickable and is a joy to maneuver around town when commuting.
Durability:  This isn't a criteria commonly considered by mainstream motorcycle publications, yet it matters a lot to many a prospective owner.  Our test bike has been ridden unsparingly for 4 years and over 40,000 kms, through wet, dry, hot and cold and has not had a single mechanical issue.  Upon its 24,000 mile (39,000km) valve inspection, all but one of the valves were in spec and the rest of the motor was in fantastic shape. As a matter of fact, the only wear part that was replaced is the chain and sprockets (at 30,000 kms).  Indeed, the FZ gives a lot more than it takes and that's not something that can be said about every high-performance bike on the road today.
The Bad
Suspension: Over the model range's lifespan (in its 5th production year at the time of writing this), Yamaha has done a lot of work to improve what was a barely-acceptable stock setup.  With a non-adjustable front end from 2014-2016 and a preload-only adjustable shock, the older-generation FZ-09 felt over-motored as the suspension couldn't keep up with what the motor was dishing out.  As of the 2017 model year, this was addressed with fully adjustable fore and aft components but any prospective owner of an older gen FZ should be forewarned that suspension mods are a must-do for this bike.
Handlebars: Although suspension is largely to blame for the stock bike's unsettled, floaty handling, weight distribution also plays a part here and the stock bars are partially to blame.  Although comfortable for commuting, the swept back angle keeps the rider's weight over the rear of the bike, making it much more wheelie-prone at the expense of front end feel in corners.  For someone who isn't concerned with cornering speed, this may not be a problem but for those looking to extract performance from the bike and stretch its legs on twisty roads, the stock bars are a clear limiter.
Ride Modes/Fueling:  The FZ has 3 riding modes (A, B and STD) which change throttle response for different types of riding conditions.  Although the letter-and-word-based differentiation is non-intuitive (and inconsistent across Yamaha's models that use the same convention), what's clear is that "A Mode" is the more aggressive one, to the point where on/off throttle response can be abrupt and unsettles the stock suspension easily.  "B Mode" is preferable for all but the most aggressive riding scenarios and offers a better mix of performance and usability, even though it doesn't make full power at any point in the rev range.  What's more is that the bike defaults back to "STD mode" every time you turn it off so if you happen to prefer another mode, you'll have to remember to toggle the setting every time you ride the bike (or flash your ECU).
Recommended Upgrades
Exhaust: True of any bike but in this case, a relatively easy and inexpensive mod.  Our test bike was outfitted with an M4 Carbon can early in its service life and the mod achieved the usual benefits of a slip on.  Sound improved (subjective) but the weight reduction was the greatest benefit.  For under $500, the carbon slip on is an inexpensive mod that shaves weight and frees up a bit of power without negatively affecting fueling.  There are much more expensive full systems from the likes of Akrapovic but we don't see the logic in spending that much on mod that will provide only modest gains on a budget-priced bike.
Suspension: The aftermarket immediately identified that suspension was the FZ-09's weak link and the resulting number of options can be dizzying.  Our experience is with the 2-way adjustable Ohlins shock (part #S46DR1 aka YA335) and 20mm 3-way adjustable Andreani drop-in fork cartridges (part #105/Y07).  For about $1,500 CDN, this combination maximizes the bike's cornering potential and brings the chassis up to the same level as the very competent motor.  There are various other options available that should achieve similar results without spending more.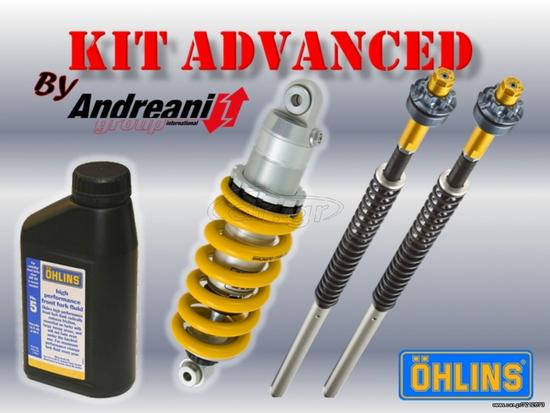 Tires: Anyone looking to turn the FZ into a serious performance machine should address tires (after suspension) as the motor and chassis have even more to give once set up properly.  In the spirit of keeping costs low (this is, after all a sub-$10K bike), a tire like the Dunlop Sportmax Q3 is an ideal match for a suspension-tuned FZ and completes its transformation into a corner-carving machine.
Handlebars: The stock seating position on the FZ caters well to commuting or touring but limits the bike's sporting potential once the pace picks up.  As fun as a wheelie-prone bike might be in a straight line, the FZ's front-end can feel vague and begin to wag unless the rider keeps his/her weight above the front wheel.  A simple bar swap to something like the Rizoma MA005 puts the rider's weight farther forward in a more attack-ready position without sacrificing comfort.  It's worth noting that with handlebars, suspension and tires modified, we never felt the need for a steering damper, even at the most brisk pace.
Bar Ends/Weights: On full day rides at constant RPM, we found the FZ to be a little "buzzy" through the handlebars. This is a common complaint from owners and we were no exception.  Although we were never able to fully resolve the issue, a combination of bar end weights (take your pick but be sure to match them to the bar end diameter of your selected handlebars), filling the OEM bars with copper bb's and even rubber mounting the bars brought some relief and kept tingling to a minimum. Softer rubber grips can also help.
Seat: The last and most subjective mod category.  Suffice to say that we experimented with various seats over the year/miles and ended up settling on the OEM comfort seat with some custom foam padding.  We found the bench-style seat configuration to work best on this bike as it allows for good fore/aft movement as well as a non-sadistic perch for any would-be pillions.
Conclusion
In summary, the 2014-2016 Yamaha FZ-09 is a good platform that can be made into a great bike.  An investment of $2,500 above the very conservative new (or used) asking price should suffice to unlock the potential of this very raucous middleweight.  From 2017-onward, many of the FZ's issues are addressed from the factory, with adjustable suspension, ABS, improved fueling, a slipper clutch and even a quickshifter added as standard equipment. Anyone looking to spend less and who isn't a self-described hooligan would be well served to consider the FZ-07 whereas anyone hoping to run with superbikes should consider the FZ-10.  Between those 3 bikes, Yamaha is covering a lot of ground and if you've never ridden one, we highly recommend a test ride.